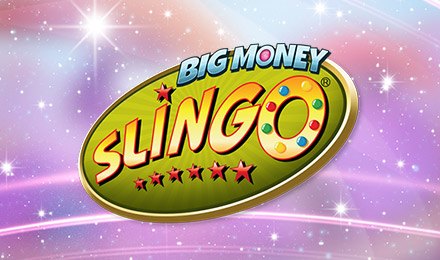 Big Money Slingo
Big Money Slingo is a Slingo online casino game with a Medieval theme. This game is hugely popular with Slingo UK gamers for many reasons, one of which is its huge £100,000 jackpot!
play now
This game is challenging and innovative, but so much fun that you will keep wanting to come back for more
How to Play Big Money Slingo?
To play Slingo games such as this, you need to first understand it. So, here is a quick overview of the game and how to play it.
To begin the game, you need to place your bet. However, unlike other Slingo games, Big Money Slingo does not have a betting tab. Instead, you have to choose from 6 different Medieval locations, each of which has a bet amount attached to it. The locations that you can choose from are:
Smugglers Cove
Diamond Peak
Golden Fields
Royal Forest
Joker's Hamlet
Choose where you wish to travel to with care, because that is the amount you have bet on this game! Once you have selection your location, you are taken to the main game screen. Here you will see the familiar Slingo bingo grid atop the Slingo slots reel, the pay table and the spin counter. Press START GAME to commence your journey! You will get 6 spins per game, and you need to win as many Slingos as you can. You could get lucky and win as many as 3 extra free spins during the course of the game, taking your total to 9.
Features and Benefits
The Medieval theme of the game can be seen in its entire design, starting with the background, which shows a watch tower with a guard atop it, standing duty over the lands surrounding it. Could he be protecting your treasure? The theme continues with the location you choose, with each location being reflected in the background as you play.
Special symbols in the game include:
The Jester who appears at the start of the game. This funny man is actually the Wild, but unlike other Slingo online games, you don't get to choose where to use him. When you start the game, up to 4 Jesters are placed randomly on the grid.
Free Spin: Pray that you are able to land all the 3 free spins in the course of your game. The more spins you have, the higher your chances of winning! There is no Slingo Bonus in this game.
Mobile Experience
Big Money Slingo is available on most Slingo sites in the UK. And the best part is that you don't need to be in front of your PC to access the game anymore. This exciting game is not mobile friendly, so you can play it on your phones and tablets no matter where you are or what time it is.
Tips & strategy
| | |
| --- | --- |
| #1 | The rather low RTP of this game tells you that this is a challenging game to play. Despite the difficulty level, Big Money Slingo is one of the most popular games today. |
| #2 | Get 4 Place your bets carefully. When you have such limited spins, it is best to think about how much you are willing to spend before you take the plunge. |
| #3 | Don't depend on those three extra spins. You may or may not get them, after all! |