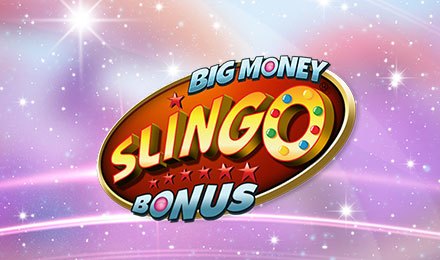 Big Money Slingo Bonus
If you enjoyed playing Big Money Slingo, then you will absolutely love Big Money Slingo Bonus! This new version of that game has made Slingo UK fans go wild! You can lay bigger bets – and reap even greater rewards. This Slingo casino game lets you win as much as £250,000 in its mega jackpot!
play now
How to Play Big Money Slingo Bonus?
Betting: You need to choose your location before you play Slingo here – just as you would in the original version. In this Slingo online game, you get 6 options:
Joker Hamlet: The bet amount is 50p
Royal Forest: You are betting £1 if you choose this location
Golden Fields: The bet amount goes up to £2
Diamond Peak: Stakes have gone up even further to £5
Lucky Gulch: Now you are playing for bigger stakes at £10
Smugglers Cove: This is the maximum bet of £15
Main Game Screen: The main game screen is a standard game screen, however, the background in different depending on the location (read: bet) you have chosen. You have the Slingo bingo grid on top of the Slingo slots reel at the centre of the screen.

No Pay Table: Instead of a regular pay table, the grid is surrounded by blurbs which show you the amounts you stand to win for each line. It may seem a little confusing at first, but as you play the game, you get used to seeing the prize amounts laid out in that fashion.

Key Collection: A unique aspect of this game is the collection of key that will activate the Slingo bonus round.

Spins: You will have 6 spins to win this game. Tough, isn't it!
Features and Benefits:
While this game might have the same theme as Big Money Slingo, it is a complete unique game. The locations for bets, pre-placed Jokers, Free Spins and 6 spins per game are the only similarities.

There are so many new innovations in Big Money Slingo Bonus that you really cannot compare the two Slingo games.

Wheel Bonus Mini Game: A special feature here is the Wheel Bonus Mini Game. Remember the keys we mentioned earlier in the review? Well, during the course of the game, you can land key symbols. You need to collect 5 of these symbols to activate the mini game.

When the mini game is activated, a wheel appears on the game screen. You need to click on the SPIN button to initiate the round. When the wheel stops spinning, the prize it lands on is yours!
Mobile Experience
Big Money Slingo Bonus is designed to be mobile friendly, so you can play this game on the go without losing out on the entire gaming experience! You can either download the game itself or log onto the many Slingo sites that offer this game and play it on your tablet or smart phone.
Tips & strategy
| | |
| --- | --- |
| #1 | Try and win the game in the 6 spins allotted to you. If you get extra spins – which is not guaranteed – then you get a chance to score even more Slingos, but don't depend on those extra spins. |
| #2 | The higher your bets, the more you stand to win. However, keep in mind that this is a challenging game with a rather low RTP, which means big wins are few and far between. However, when they do come, they are huge! |
| #3 | There are 12 different Slingos that you can win in this game, and the amounts you win is mentioned around the game grid. |