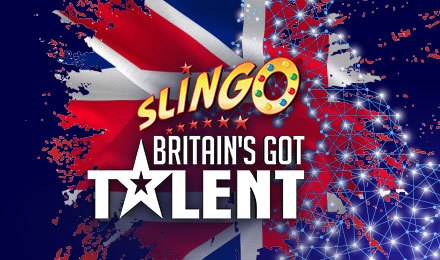 Slingo Britain's Got Talent
This Slingo casino game is based on the wildly popular reality TV show called Britain's Got Talent. This is fun game to play, and yet offers some really big rewards. You can actually win as much as £20,000!
play now
Gameplay is simple but exciting, which is why it is so popular in the Slingo UK gaming community!
How to Play Slingo Britain's Got Talent?
You see a Slingo bingo grid in the centre of the screen. The grid is randomly filled with 25 numbers that range from 1 to 75.
To win the game, you need to mark off the numbers in the grid by matching the numbers that appear on the Slingo slots reel that is placed just below.
You win Slingos by marking off numbers in a straight row, diagonal and column. The more Slingos you make, the higher your wins.
To one side of the grid is the pay table. This is where you get to know how much you stand to make with each successive Slingo you win.
Opposite it is the spin counter, which tracks the number of spins you have left before the game is over. For this Slingo online game, you get 11 spins.
Below the spin counter is the START GAME button.
Gameplay:
Set your wager. Remember, once you set your stake, you cannot change it for the duration of the game.
Click on START GAME.
Begin!
Features and Benefits
To make Slingo Britain's Got Talent even more exciting, you get numerous special symbols that – mostly – help you get higher wins.
The Joker: This is a Wild that allows you to mark off a number of your choice in the column above where it lands on the reel.
The Super Joker: This is also a Wild, but more powerful. You can mark off a number anywhere on the grid with this one.
Free Spins: When this symbol appears on the reel, you get a free spin which you can use after you have exhausted all your spins.
Coins: Land this symbol and get an instant cash reward.
The Devil: Be careful when this guy appears on your screen. He blocks potential combinations!
The Cherub: For every Devil, there is an angel. And this little Cherub will help you fight the ill will of that pestilential pest!
The Slingo bonus in this game is also great! If you manage to land 3 wilds (Joker and/or Super Joker), you get an instant cash reward!
Mobile Experience
Slingo Britain's Got Talent is available on multiple Slingo sites, and now, you can play this game on your mobile devices anywhere you are!
Tips & strategy
| | |
| --- | --- |
| #1 | Use your Wilds wisely. Try and mark off numbers that are in positions on the grid that will most likely get your Slingos. |
| #2 | In this game, you also have the option of buying extra spins. If you are close to a big win and have a large bet, go ahead and buy these extra spins to complete your game. However, remember, each spin you buy gets progressively more expensive, so you may end up spending more than you win. |
| #3 | Beware of the Devil as he can block you matches. |