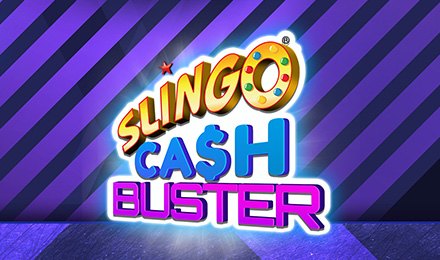 Slingo Cash Buster
Have you ever dreamed of playing Slingo, along with Tetris and Candy Crush? Well, your dreams have come true! Try Slingo Cash Buster if you are a fan of all these three games. And the best part is that the fun doesn't stop at awesome gameplay. You also get a chance to win the whopping huge jackpot!
play now
How to Play Slingo Cash Buster?
This is yet another unusual offering from the Slingo vaults and veers away from tradition Slingo games.
Layout of the Game
Instead of the regular Slingo bingo grid, you have a box of coloured Tetris blocks.
And instead of the standard Slingo slots reel, you have a laser gun which shoots the coloured blocks in the Cash Buster Zone (which is basically the last row of blocks in the box).
And, instead of a SPIN button, you have a dice that you need to roll. And finally, instead of numbers on the dice, you have colours that match those in the box.
Rather than a regular pay table, you have a colour bar to one side of the blocks, which tracks how many blocks of a particular colour you have blasted. When you complete a colour bar, you win a prize.
When you roll the dice and it lands on a particular colour, a laser beam shoots out and blasts all the matching colours in the Cash Buster Zone. All adjacent blocks of the same colour are also blasted away.
Gameplay

Start by placing your bet.
Then roll the dice. You get 8 rolls of the dice to win this Slingo casino game!
The object of the game is to complete the colour bars, of which there are 6. Each colour bar has a different prize value.
Features and Benefits
Certain blocks are actually special symbols and if you are lucky enough to blast them, you get some help to win at this unique Slingo online casino game:

Free Rolls: If you blast a Free Roll symbol, then you get extra rolls of the dice at the end of the game!
Instant Wins: Blast a block with the Instant Win symbol on it and you get an instant cash prize. There are 3 values that you can win - £3, £6 and £15!
Slingo Bonus
You also get to play a mini game if you manage to blast the block that has the Bonus Mini Game symbol. Once you activate the mini game, you are show a set of cards, of which you need to pick one. This card will give you
So, say you pick a card with 5 Blue blocks, that total is added to your colour bar. This can help you win Slingos, or at least get you closer to winning Slingos!
Mobile Experience
This Slingo UK game is now available on all mobile devices, so you can play on the go! Access all Slingo sites and play Slingo Cash Buster any time you want, anywhere you want!
Tips & strategy
| | |
| --- | --- |
| #1 | Aim for maximising your Instant Wins. |
| #2 | Also focus on activating your Mini Game so that you can win those extra colours to really increase your chances of winning at this game. |