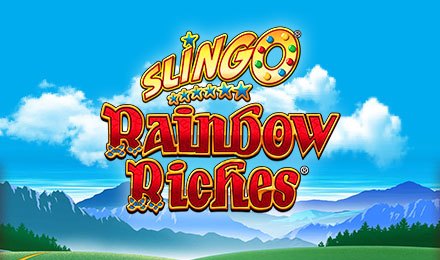 Slingo Rainbow Riches
Slots and bingo your thing? If so, you've got to try Slingo Rainbow Riches! This fascinating and super exciting game combines the fast pace of bingo with one of the most popular slot games ever created, Rainbow Riches.
play now
Just enter your Slingo login and come play one of the most exciting Slingo games around! While the original Slingo games were just for fun, these new versions can be played for real money. And Slingo Rainbow Riches gives you some of the biggest cash prizes available.
How to Play Slingo Rainbow Riches?
When you play Slingo Rainbow Riches online, you see a screen that has a 5x5 grid on top of a single slot reel. The game has a vibrant appearance with the Rainbow Riches theme in the background.
The object of the game is to win as many Slingos as possible and move on to the next level. You need to complete rows, columns, diagonals, patterns and even a full house to win the game. You get a limited set of spins, and if you cannot complete the level within that limit of spins, you can either end the game or buy some more spins with real money. Here's how you play:
Click on SPIN.
Daub the numbers that appear on the reel after it lands. You will get 20 seconds to find and cross out the numbers, so you need to concentrate and do this quickly.
Beat the level by winning as many Slingos as possible.
Special Symbols
You get the following special symbols that help you maximise your wins:
The Joker: Land the joker and you can daub any number in that column.
The Super Joker: Land the super joker and you can daub any number on the entire grid.
Coins: instant cash wins that are added to your total.
Free Spin: These are added to the 10 spins you get so you increase you chances of winning!
The Cherub: The Cherub can save you from the Devil and also double your wins!
The Devil: The Devil is the bad guy who takes away up to half of your winnings.
Bonus Rounds
Slingo bonus rounds in this game are mouth-watering! You get a chance to play up to 7 bonus rounds, which start with you winning 5 Slingos in a row.
The Wishing Well: Get 5 Slingos in a row and you activate this bonus round. You get to pick a multiplier from the Wishing Well and increase your winnings.
The Cash Crop Bonus: Get 6 Slingo wins and you will see a field of spinning coins. Click on them to reveal big multipliers to boost your winnings.
The Magic Toadstool Bonus: Get 7 Slingos and you will see magic toadstools on your screen. You have 3 picks where you can win multipliers and even a fairy. If you get that fairy, you get another 3 picks. You can really win big with this one!
The Magic Toadstool Red Bonus: It's the same as the Magic Toadstool Bonus, except that you can actually quadruple your wins in this round – and you need to get 8 Slingos to activate it.
The Road to Riches Bonus: 9 Slingos will land you on the road to riches, where the values of the prizes just keep increasing as you go along that road.
The Road to Riches Red Bonus: At 10 Slingos this road to riches will double everything!
Pots of Gold Bonus: Get the full house and this is what you get. You can actually win a mindbogglingly large sum of money in this round!
Tips & strategy
| | |
| --- | --- |
| #1 | Match the numbers on the reel in just 10 spins to win! |
| #2 | Look out for jokers – they act as wilds and let you mark off any number in the above row |
| #3 | Pay attention to the central square position – it's often the one that gets you closest to Slingo with the help of jokers and super jokers |