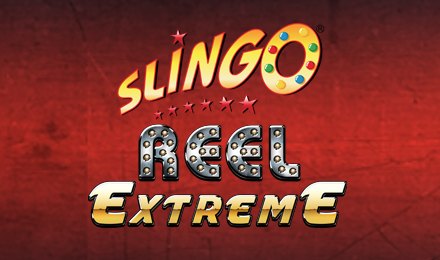 Slingo Reel Extreme
Slingo Reel Extreme is a super, red-hot game whose fast-paced action never stops! It combines two of the most popular Slingo games ever – Slingo Reel Riches and Slingo Extreme – to give you a gaming experience that is mind-blowing!
play now
The game is chock full of all your favourite Slingo characters, and has also gives you multipliers, scatters, bonuses, free spins, coins and even progressive jackpots!
How to Play Slingo Reel Extreme?
Layout of the Game:
This game does not look like a regular Slingo casino game. There is no Slingo bingo grid here. It looks and feels more like a traditional slots game. It has 5 reels of 3 rows each, with 20 paylines. However, similar to other Slingo games, you need to set your wager and spin the Slingo slots reels to start the game. Added to that, like in other versions, you get a limited set of spins in which to win the game.
Playing the Game:
Set your wager.
Press SPIN and start the game.
Aim for as many combinations as possible to increase your wins!
Features and Benefits
Slingo Reel Extreme is easy to play, and the action is so fast that it takes your breath away. You get to see all your beloved characters, such as the Jokers, the Super Jokers and the Angel. Unfortunately, with the good comes the bad. That pesky Devil is also in the game too!
This Slingo online game has a special symbol – the Wild Logo. It is a stack of gold coins. If you get lucky and land this symbol, your line wins are doubled. It can also replace other symbols to help you with even more winning combinations. However, the one symbol the Wild Logo will not replace is the Bonus.
If you land 3 Bonus symbols, you will activate the win Spin Bonus.
Linked Spins
You do not need to land all 3 Bonus symbols in one spin. In this game, 5 spins are linked. Which means that you have 5 chances to collect those Bonus symbols! Which also means that you have a much greater chance of activating the Slingo bonus game!
Win Spin Bonus
If you get lucky enough to land 5 Bonus symbols in the linked spins, then you activate this round. The more Bonus symbols you have managed to collect, the higher the rewards.
Here's how it works:
Collect 3 Bonus symbols:

4 spins, 8x multipliers o 8 spins, 4x multipliers o 16 spins, 2x multipliers

Collect 4 Bonus symbols:

4 spins, 16x multipliers o 8 spins, 8x multipliers o 16 spins, 4x multipliers

Collect 5 Bonus symbols:

4 spins, 80x multipliers o 8 spins, 40x multipliers o 16 spins, 20x multipliers
You get choose the volatility in this round. The game hands over control to you!
Mobile Experience
You can now access this game on your favourite Slingo sites no matter where you are or what time it is. How? Thanks to the fact that this game is now mobile friendly!
Tips & strategy
Slingo UK players love this game. However, if you really want to win, then you need to use just a little bit of strategy during the Spin Bonus round. Choose your spins and multipliers carefully. If you are feeling lucky you can go for the higher multipliers and lower spins, but if you want to play safe, go for the higher spins and lower multipliers!