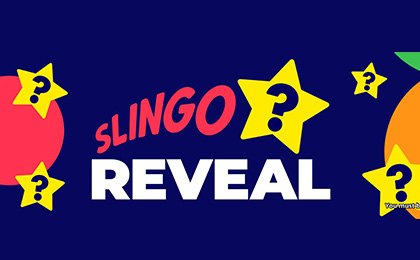 Slingo Reveal
Slingo is a combination of slots and bingo. But Slingo Reveal is a combination of slots, bingo and instant scratch card wins! Yes, it's a combination of 3 games in 1! So, if you love to play instant scratch cards, and are looking for a unique game to play, then this is one that you might want to try!
play now
If you think gameplay is the only interesting aspect of this game, be prepared to be surprised. This Slingo casino game has an immense jackpot prize on offer. £250,000 to be exact. Which is why Slingo UK players absolutely love this game!
How to Play Slingo Reveal?
It takes time to get used to the layout of this Slingo online game. So here is a description of how the game works:
Layout:
The Slingo bingo grid, which is standard from most Slingo games, is present in this game too.
The Slingo slots reel is also where it should be – just below the grid.
Next, each line of the grid is marked by a blurb with a question mark inside it.
When you win a Slingo, the blurb corresponding to that line reveals a symbol.
That symbol has a prize value attached to it, which is shown in the pay table.
The object of this game is to reveal the treasures of as many blurbs as possible (read: get as many Slingos as you can) and complete symbol sets.
When you complete a set of these symbols, you win a prize!
Ps. You don't get a prize when you win a Slingo, you get one when you complete a collection.
Gameplay:
Place your wager
START GAME
Win as many Slingos as you can.
Features and Benefits
Slingo Reveal sports a bright and warm design and is fun to play. But with such high stakes riding on this game, you need some help to win. This game provides that extra help!
Joker: This Wild will let you mark off any number in the column above where it appears on the reel.
Free Spin: If you land this symbol, you get awarded a free spin at the end of the game.
Instant Win Symbols: The symbols that appear on the scratch cards (blurbs) are the BAR, the number 7, Cherries, Plums, Oranges, Melons, Diamonds. Collect a set of 3 each to win some really hefty prizes.

While there is no Slingo bonus in this game, there is an interesting feature that is unique to this game. It is how its RTP changes. While you use the initial 9 spins allotted to you, the game's RTP is 89.50%. However, as soon as you start buying extra spins, the RTP jumps up to 95%, which means that you chance of winning more goes up!
Mobile Experience
This game is available on multiple Slingo sites across the UK. And the best part is that you can play this engrossing game on your mobile devices!
Tips & strategy
| | |
| --- | --- |
| #1 | When you land a Joker, use it with care. Mark off numbers on the grid based on their position. Try to mark off central numbers that have the highest probably of helping you create Slingos! |
| #2 | Use those extra spins, especially when you are close to a really big win! However, beware! Those extra spins get progressively more expensive the more you buy. So, you might end up spending more than you earn if you are not careful! |
| #3 | Beware of the Devil as he can obstruct a Slingo. |